Photo Info

Kenya Railways
Summary

Itinerary

Pricing

Options

& Add-ons
Kenya Planes, Trains & Safarimobiles - From US$4399
Discover Kenya in style on this luxury safari vacation in premier nature reserves.
Trip Highlights
Nairobi | Amboseli | Tsavo West | Maasai Mara
Explore
The world-renowned Maasai Mara, where vast herds of animals roam free
Amboseli National Park, framed by the awesome Mount Kilimanjaro
Tsavo West National Park, home to Africa's incredible mammal and bird life
Enjoy
A delectable bush barbecue dinner at Amboseli Serena Lodge
Safari game drives in a specialized safari vehicle with a pop-up roof for easy game viewing
A superb bush breakfast by a scenic hippo pool in the Maasai Mara
Experience
Luxury accommodations at Serena Lodges throughout Kenya
The Madaraka Express, Kenya's newest train
The unique customs and culture of Kenya on a Maasai village tour
Choice
At additional cost:
Enjoy incredible views from a hot air balloon over the Maasai Mara
Day 1 - Nairobi
On arrival at Jomo Kenyatta International Airport Nairobi, you will be met by a Lion World Travel Representative and transferred to your hotel. You will be assisted with your check-in at your hotel and will be given a short brief on your safari ahead.
Accommodation: Nairobi Serena Hotel - Standard Room
Day 2 - Amboseli National Park
After breakfast you will be transferred to Syokimau Train Station to connect on to the SGR Train to Emali Train Station.
The Standard Gauge Railway is the fastest train Kenya has ever seen. It operates at an average of 75 miles per hour. This is nearly double the speed of the country's only other train line, the now-defunct Kenya–Uganda Railway, built in 1901. The train line, which has been labeled the Madaraka Express, has become a most popular mode of transportation.
On arrival you will be picked up by the lodge vehicle and transfer to your lodge arriving in time for lunch.
Set against the magnificent backdrop of Africa's highest mountain, the glittering Mount Kilimanjaro, the luxury Amboseli Serena Safari Lodge is set in a uniquely privileged position at the heart of this world-famous national park.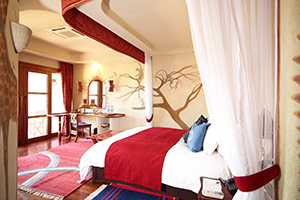 Amboseli Serena Lodge
Secluded within a grove of acacia trees, the safari lodge looks out over the golden savannah plains, with uninterrupted views of the mountain itself. Close by are a series of emerald green swamps, which are fed by the melting snows of Kilimanjaro. These, the only sources of water in this otherwise starkly beautiful but arid park, attract huge numbers of elephants, hippos, buffalos and plains game.
After lunch, enjoy an afternoon game run in this park. In addition to elephant, antelope, zebra, wildebeest, buffalo and the elusive leopard, nearly every vista within the park is framed by majestic Mount Kilimanjaro in the distance.
Accommodation: Amboseli Serena Lodge - Standard Room (B, L, D)
Read More
Day 3 - Amboseli National Park
Wake up early to enjoy the awesome views of Mount Kilimanjaro before clouds build up over the summit. Either in the mid-morning or afternoon, you will visit a Maasai village, home of the Maasai people. Here you learn about their tribal social systems, customs and the place of the Maasai in today's Africa. The residents live in their Manyatta, or village, much as they have for centuries and a visit gives you the opportunity to see the interior of these mud-hut homes, spotless and unadorned, contrasted with the Maasai themselves, bedecked with brilliantly colored beads and cloths.

Maasai
Accommodation: Amboseli Serena Lodge - Standard Room (B, L, D)
Day 4 - Tsavo West National Park
After breakfast, depart on your drive to Tsavo West National Park. You will arrive in time for lunch at Kilaguni Serena Lodge. The traditionally thatched, breeze-cooled dining room overlooks the lodge's action-packed water hole where lumbering herds of elephant, roving buffalo and playful zebra collect to drink.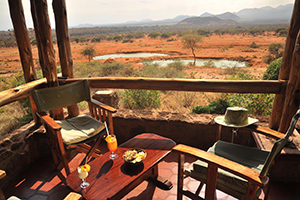 Kilaguni Serena Lodge
The elegantly renovated rooms draw on a sun-gold, sky-blue and bush-green savannah color palette and have been so styled to provide world-class luxury and a quintessential African aura whilst featuring private verandas with views of eternity.
The park is a vast expansion of African savanna with a more diverse array of habitats which include open plains, semi desert scrub, woodland, Chyulu Hills and rock outcrops. It's famous for the red elephants, oryx, and gerenuk among other mammal's species and bird life.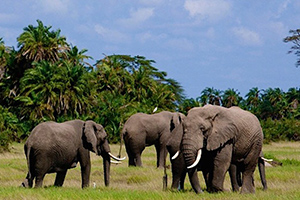 Elephants
Accommodation: Kilaguni Serena Lodge - Standard Room (B, L, D)
Day 5 - Tsavo West National Park
Two game drives are scheduled today. The extensive diverse habitats offer the ideal area to search for Lions, Buffaloes, Cheetahs, Giraffe, Zebras, Hippos and Wildebeests. Mzima Spring, underground water seepage from Chyulu Hills is a good place to watch the Hippos. There is also a wealth and diversity of birds' species.
Tsavo West National Park is a vast expanse of savanna stretching along the Mombasa-Nairobi road and south to the Tanzanian border. The park's habitats include open plains alternating with Savannah bush and semi desert scrub, acacia woodlands; rocky ridges and outcrops and more extensive ranges and isolated hills.
Accommodation: Kilaguni Serena Lodge - Standard Room (B, L, D)
Day 6 - Nairobi/Maasai Mara
After breakfast at the lodge, bid farewell as you transfer to Mtito Andei Train Station, to connect on to the SGR Train to Nairobi. Upon arrival, you will be met by a Lion World Travel Representative and transferred to Wilson Airport in time for your afternoon flight to the world famous Maasai Mara.
Upon arrival at the local airstrip, you will be met by your local driver guide who will transfer you to your home for the next three nights arriving in time for lunch.
It's time to continue the Kenya safari of your dreams in this vast, gently rolling landscape of acacia-specked grasslands darkened by migrating wildebeest herds. Mara Serena Safari Lodge invites you to a world where dramatic sights and experiences are enhanced by gracious service and five-star amenities. As the only safari lodge in the famed Mara Triangle, the setting is matched by few other hotels in the world: perched high on a bush-cloaked hill with sweeping views of the savannah and the meandering shoreline of the Mara River. Mara Serena Lodge is designed in the style of a traditional Maasai Manyatta while offering every modern comfort.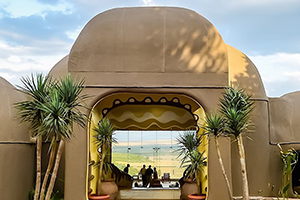 Mara Serena Lodge
Neatly arranged rows of rooms and suites are positioned to offer uninterrupted river views from private balconies. Equally breathtaking sightlines can be enjoyed from the restaurant and bar and rock-enclosed swimming pool.
In the cool of the afternoon take a game-drive amid the rolling savannah of the Mara. This offers the ideal hunting ground for Kenya's famous "big cats", hosting Kenya's largest population of lions. In the late afternoon return to the lodge in time for a hot shower and dinner.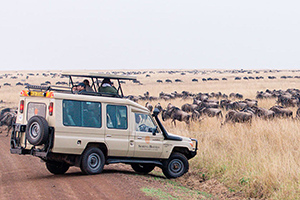 Game drive
Accommodation: Mara Serena Lodge - Standard Room (B, L, D)
Day 7 - Maasai Mara
Enjoy morning and afternoon game drives in Africa's richest wildlife viewing arena. Historically teeming with wildlife, the Mara hosts Kenya's largest lion prides and elephant herds. Other predators include leopard, cheetah and spotted hyena; while in the Mara River you will see fat pods of hippo and vast Nile crocodiles. Other highlights include giraffe topi, gazelle, zebra, buffalo and over 550 species of birds. Spend the evening where colorful Maasai dance and cultural performances are offered nightly.
An optional balloon ride is on offer!
Your Balloon Safari adventure starts early morning when you depart your lodge or camp. It is still dark, and you may be fortunate to see nocturnal animals on the way to the launch site. When you arrive, you will meet your pilot and witness your balloon being inflated and prepared for launch. After a thorough safety briefing and demonstration of boarding and landing position you board your balloon and lift off! Rising as the sun rises your balloon floats in whatever direction the winds of the day are heading over this wonderful area. Your pilot will use varying altitudes and layers of air to navigate the balloon over this amazing area.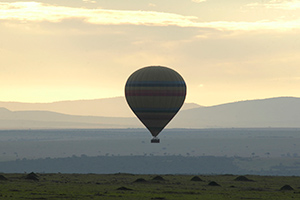 Balloon ride
Each day is different, some of the flight may be low, offering a different perspective and at other times your balloon may climb to 1000' or more. After landing, you celebrate in the traditional way with a champagne toast (well, an excellent sparkling wine) before heading off to a special 'Out of Africa' breakfast. Breakfast is prepared in the bush and served under a convenient acacia tree. Linen, bone china, Sheffield cutlery and freshly prepared fare in the company of your fellow passengers make a memorable finale to your adventure. All meals and overnight at Mara Serena Lodge.
Accommodation: Mara Serena Lodge - Standard Room (B, L, D)
Day 8 - Maasai Mara
Enjoy another day in the great Maasai Mara. For the ultimate Mara experience a superb breakfast has been arranged for you, at the local Hippo Pool.
Arriving on the banks of the world-famous Mara River you will be met by a traditionally clad Maasai warrior who will lead you along the river where countless hippos wallow. Reaching a clearing you will be offered a glass of chilled sparkling wine or fresh juice before being shown to your table, which is located in a shady grove immediately alongside the hippo pool. Beneath the trees you will find a full display of a sumptuous breakfast.
Breakfast is a leisurely experience after which your Maasai warrior guides you back along the riverbank to your vehicle. You can then experience another game drive on your way back to the lodge.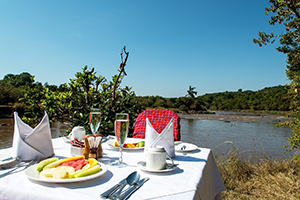 Breakfast by the hippo pool
The Maasai Mara National Reserve is an extension of the world-renowned Serengeti National Park of Tanzania. Named for the Maasai tribes people (the traditional inhabitants of the area) and the Mara River which divides it, the reserve is famous for its exceptional population of game and the annual migration of the wildebeest. Maasai Mara offers wonderful scenery of breathtaking vistas, panoramas of vast rolling plains, hills and woodland groves all watered by the lovely Mara River.
The waters of the Mara River are home to crocodiles and pools of hippo, while the woodlands and forests are favored by leopard and elephant. The open savannah areas play host to the plains game.
After a relaxing day at the camp, you will head out on another game drive in the late afternoon.
Accommodation: Mara Serena Lodge - Standard Room (B, L, D)
Day 9 - Maasai Mara
After breakfast, bid farewell to the Maasai Mara as you transfer to the local airstrip in time for your scheduled flight to Wilson Airport. Upon arrival at Wilson Airport, you will be met and transferred to Nairobi's JKIA Airport in time for your onward outbound flight.
Return home with a lifetime of memories!
Add-Ons
Azure Zanzibar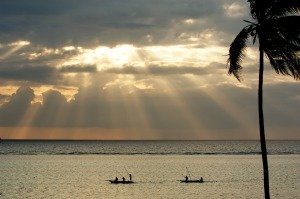 Zanzibar is the perfect post-safari beach destination, with its white sandy beaches, azure waters and alluring culture. Check out our Azure Zanzibar itinerary or speak to one of our Africa Specialists for more information.
Me To We: Kenya Community Experience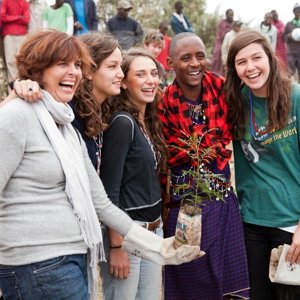 We have partnered with Me to We to offer guests the opportunity to contribute directly to sustainable development in Kenya. A Me to We trip is about being immersed in a new culture, fostering genuine connections and seeing the world through a new lens. Visit a community partnered with Free The Children, a TreadRight supported charity, and connect with local families as you contribute to a sustainable development project. From building a classroom to a clean water system, be part of the change. Immerse yourself in the region's unique and vibrant culture, led by your local guide, and leave more than a footprint behind: leave a positive impact!
Learn more about the Me to We Kenya Community Experience.
---
OPTIONAL EXCURSIONS
---
Maasai Village
A visit to a local Maasai village is always an interesting cultural experience as you meet this pastoral tribe and learn about their day-to-day lives.
Hot Air Balloon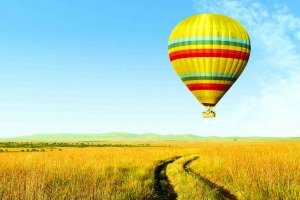 Enhance your safari with a peaceful and scenic view over the Maasai Mara in a hot air balloon. Speak to your Africa Specialist for more information.
Prices are per person in US Dollars, for land arrangements only, based on double occupancy accommodations.
---
2020 - ALL SOLD OUT. CALL US TO BOOK.
---
US$4399 per person based on double occupancy
US$550 single supplement
Valid on the following departure dates:
January 11 *SOLD OUT*
February 8 *SOLD OUT*
March 14 *SOLD OUT*
Inclusions:
Return 1st class train tickets Nairobi / Emali & Mtito Andei / Nairobi
Internal flights as indicated: Wilson to Maasai Mara and Maasai Mara to Wilson
Accommodation and meals as stipulated in the itinerary
Transportation in a lodge-shared 4 X 4 safari vehicle with pop-up roof for easy game viewing & photography
Guaranteed window seat in each vehicle
Services of an English-speaking driver-guide, game viewing drives and parks entrance fees as indicated in the itinerary
All Government taxes and levies
All meet and greet services
Bush Barbeque dinner at Amboseli Serena Lodge
Nature walk at Kilaguni Serena Lodge
Hippo Pool Breakfast
Exclusions:
International flights and flight taxes
Telephone bills, laundry and any items of a personal nature
Drinks, dining room tips, porterage
Any item not specified above
Costs of Passports and Visas
Driver/Guide gratuities
Trip Cancellation, Interruption and/or Medical Insurance – please note that insurance for this trip is a mandatory requirement from suppliers in Africa – proof of insurance must be provided before bookings are confirmed. It is your personal responsibility to ensure you have enough travel insurance coverage from the provider of your choice. Please let your Africa Specialist know if you would like information on this.
Baggage
*Prices in USD, based on double occupancy, restrictions apply
Speak to an Expert
1-800-387-2706